---
Specialising in the breeding of high quality royal python morphs, we at Royally Morphed Pythons are small breeders located towards the very north of the UK in Aberdeen, Scotland. We have been keeping and breeding Royal Pythons for several years now, and our breeding stock is comprised of some of the finest blood lines currently in existance, including NERD, Crystal Palace Reptiles, and BHB Reptiles. Our collection includes over ten different colour morphs, ranging from our very own new bloodline's of Pastel & Albino Royal Pythons, all the way through to stunning Caramel Albino Royal Pythons, and gorgeous Lesser Platinum Royal Pythons that are closely related to the original Platinum Royal Python stock from Ralph Davis. In the coming years we will have a variety of Royal Python Morphs for sale, including recessive, codominant, and designer morphs, please keep checking back for availability!





---
22nd July 2013

Pictures of a couple Enchi Lessers.


---
14th July 2013

I've been quiet on here recently, mainly because we've had a quiet couple of seasons. This year we tried a different approach - the lazy method. We only paired them 2-3 times, and so far we've 6 clutches incubating with at least one more on the way. Amazing! Disclaimer - Don't try this at home folks, i'm sure we just got lucky!

Our first clutch of the year is now hatching. We've 3 Enchi lessers and a lesser, from a Enchi x BEL pairing. Lovely. They've not been sexed yet, but will be shortly, and the mandatory pictures to follow!
---
19th June 2012
Clutch 3. One of our normal females laid us eggs. Looking at our notes the killer bee sired these one's. 5 eggs and one slug. It'll do me, i thought we were going to have another season with low clutch numbers. There's hope yet...

---
10th June 2012

Our lesser x enchi clutch hatched, but looks like 3 lessers and 3 enchi's. Just waiting for them to shed and i'll get some pictures up.

The Harlequin clutch ended up with two eggs going bad, and one hatching. The one which hatched looks to be a normal, so nothing proven thus far.

---
11th April 2012

3 More eggs - never even knew this girl was gravid! Good news for us though - harlequin x reduced pattern, which is something we've been waiting for, for a few years now. Our Harlequin male from 2007 is more like a dwarf royal python, but he gained weight through 2011 and his two girls were keeping him busy this season. Hopefully we get some indication of the genes with this pairing.

---
8th April 2012 - Easter eggs -boom boom!

Finally we have something to write about again!!! After our extremely quiet year last year, and selling too many adult males to make way for our baby males, we are back - hopefully our other girls follow on from this, we've had one reabsorb her follicles (i think her males were just not quite ready still), but we've still got some lumpy females amongst them all... so hopefully we see an ovulation or two, or three.... Hopefully all goes to plan and we see some lovely enchi lessers from this clutch. Mum - lesser, Dad - Enchi.
---
2nd September 2011

Here's a few spot nose pictures now they are all feeding.


---
13th July 2011

Some spot nose babies are now fully out the eggs. We hatched 2.1 spot noses and 2.1 normals. We'll be keeping the female spot nose, but selling the others. Lovely babies, but i'll grab some photo's of them once they've shed.

---
11th July 2011

It's been a while since i made any updates, but there really hasn't been much to update. We sold a lot of our older males, and nothing was really up to speed.

Our first clutch of what appears to be spot noses are emerging, but will update what we get when they are all out.

I've updated some pictures in the collection page as well.

Hope everyone had, or still is having an excellent breeding season, and i hope to join you all again for next season.

---
6th December 2010

Here's the Albino group - i'll get better ones when they've shed.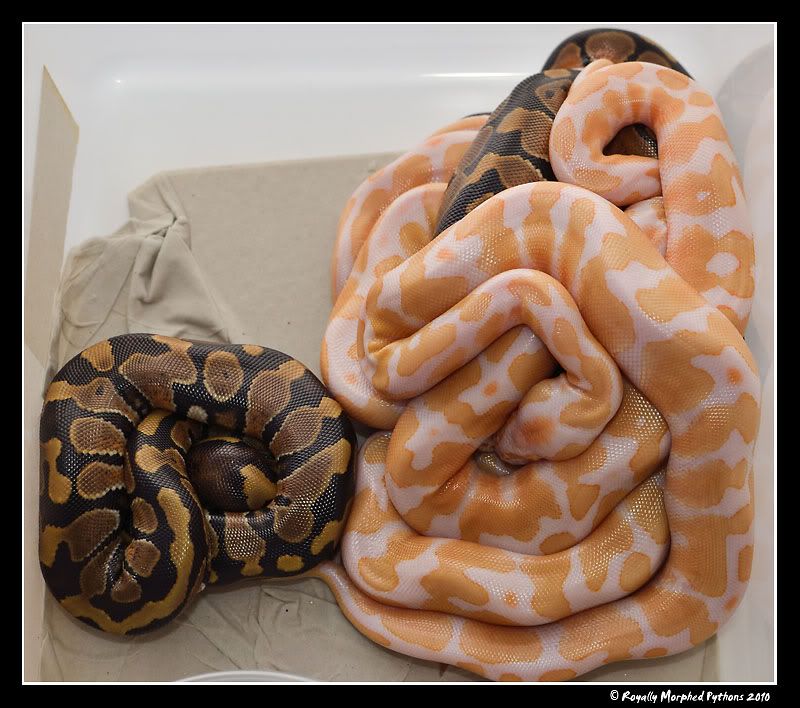 ---
4th December 2010

Our last clutch of the year hatched. 3.1 albino and 1.1 het albino, i'm quite pleased with the odd's. Here's a teaser of the first three albinos and het albino that appeared, but will get some freshly shed photo's up as soon as they shed.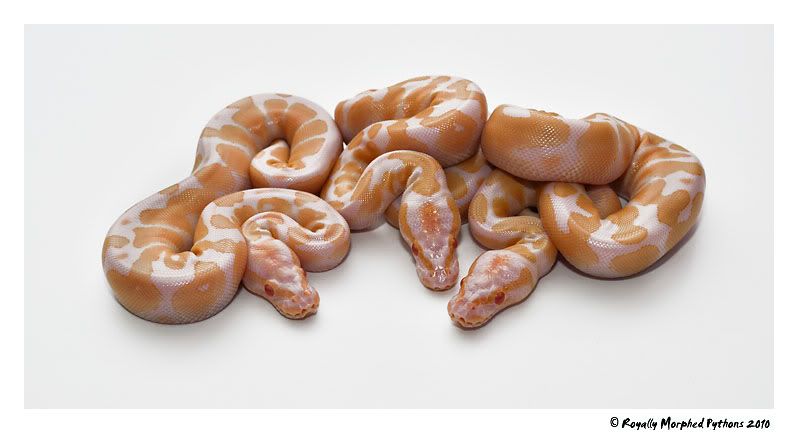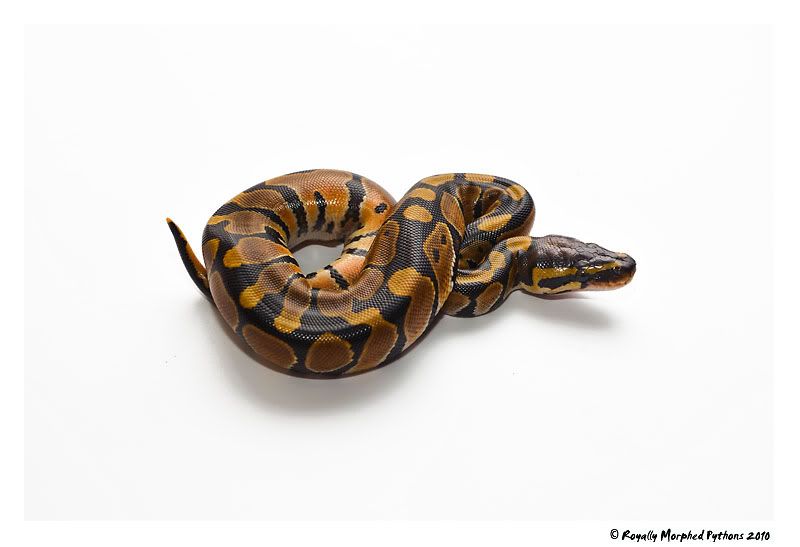 ---
25th November 2010

I completely forgot to put up the WC albino clutch. This clutch turned out to be 3 het albino males and 2 albino females. The females were taken pretty fast. I have got another WC albino x het albino clutch due to hatch in another week or so..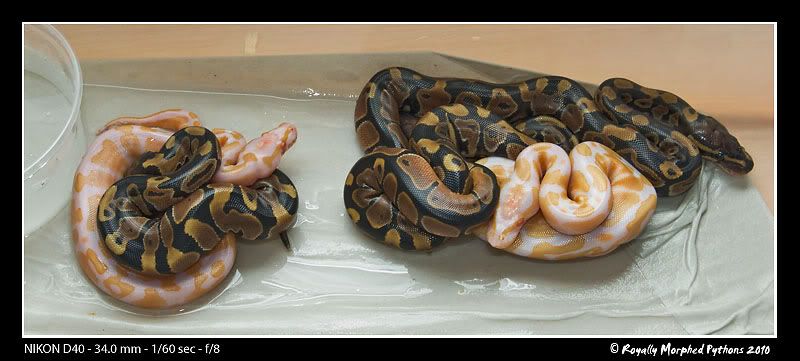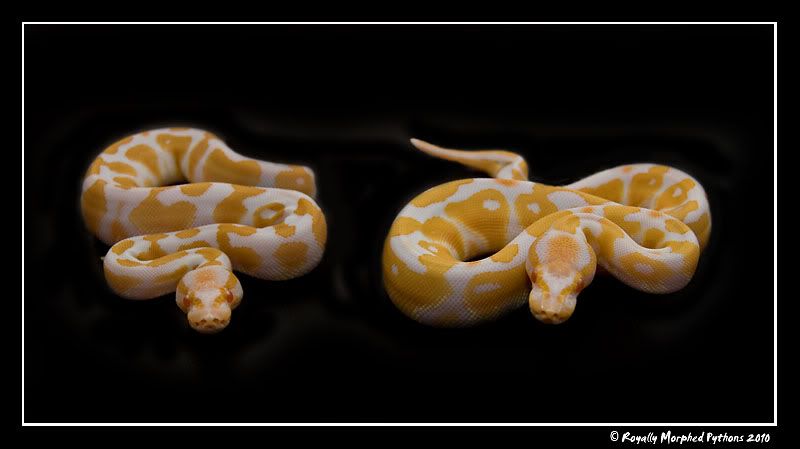 ---
9th October 2010

Well, we've hatched out 0.2 albino and 2.1 het albino's, from our wild caught albino, and we're happy with the result. Longest incubation ever for us, at 66 days!

Once they've shed i'll get some pictures of them.

I thought i'd take some snap shots of my WC pastel generations.

First up is the original wild caught mum. She's a big old girl, with battle wounds from her days outside captivity.




First generation is her bumble bee boy.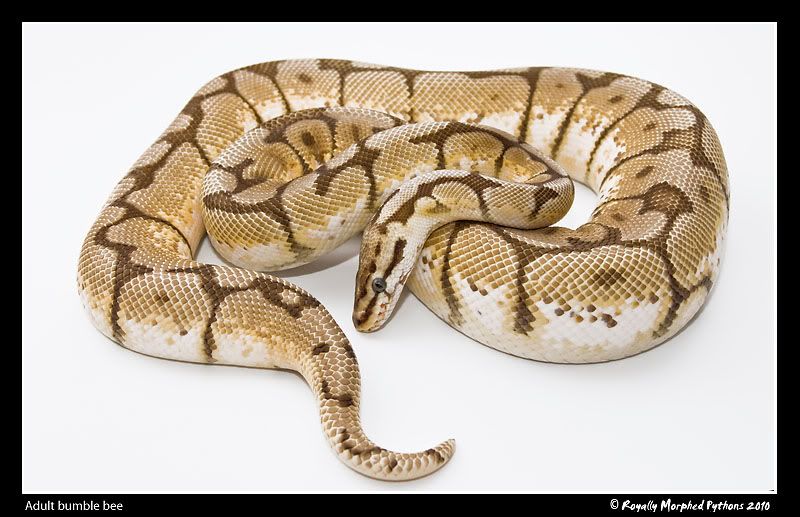 Second generation is the Killer Bee, Super pastel and Pastel from this WC line.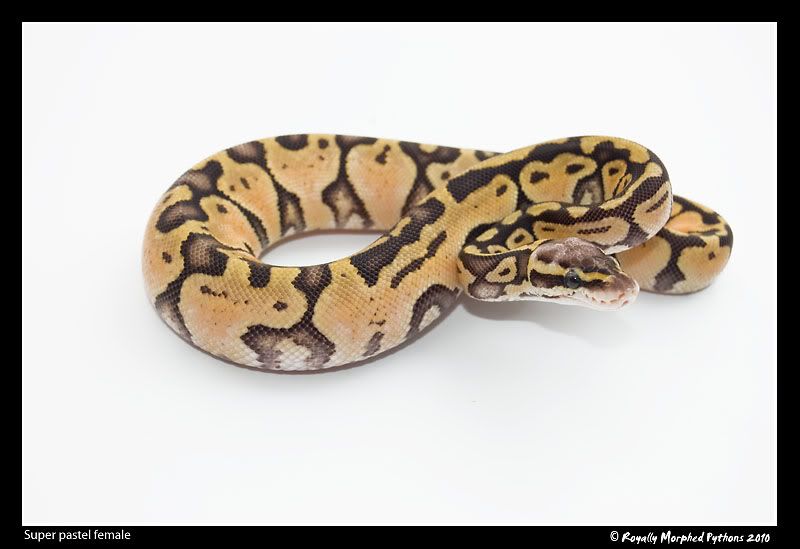 ---
19th August 2010

The home page was getting a bit long, so i've decided to convert some of it to PDF format so it's easier for people to load.

History of RMP
---
18th August 2010

Updated the collection page - added some new photographs and replaced some old ones. I also updated the available page as we will be selling some normal females.

Here is the post shed pictures of our Killer bee clutch.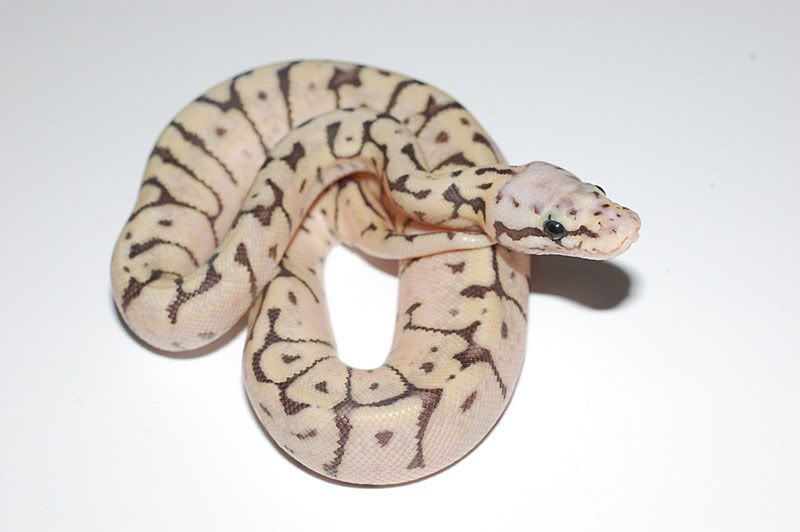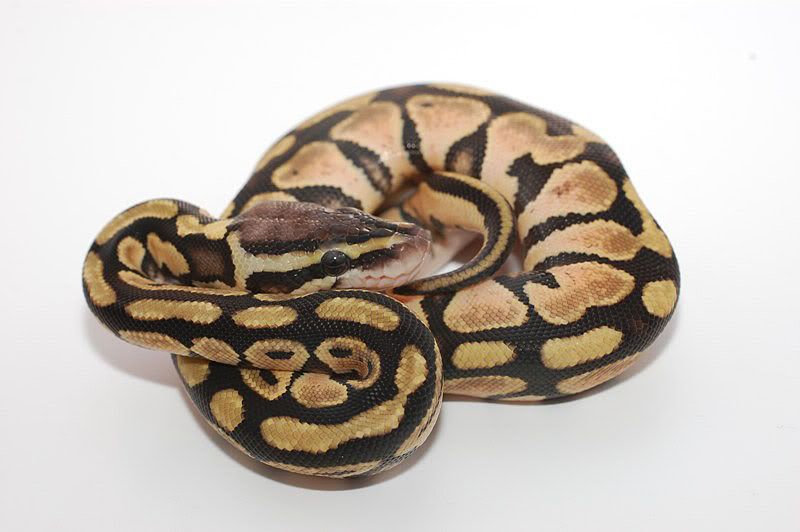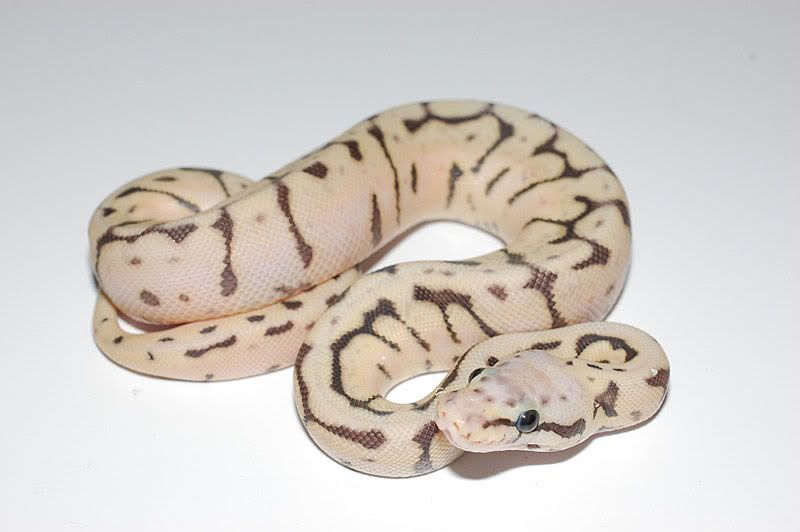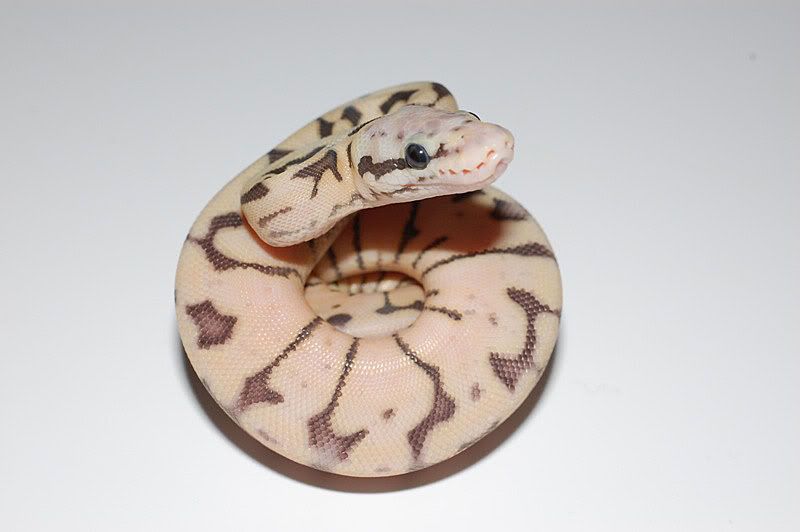 ---
4th August 2010

Well, we're over the moon with the odd gods on our wild caught pastel x bumble bee son clutch. So here's our RMP line newly out the eggs. We got 4 killer bee's, 1 bumble bee, 1 super pastel, 2 pastels, and a normal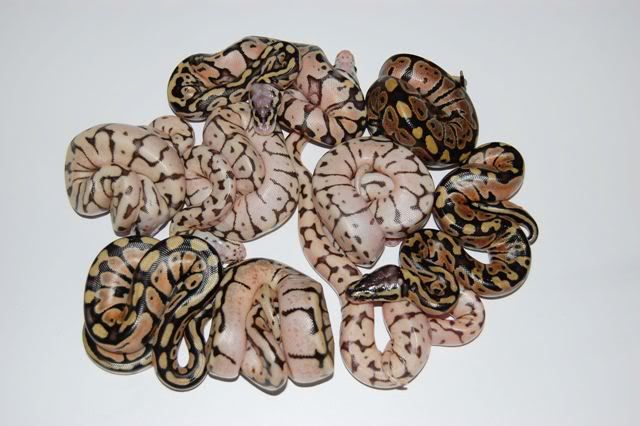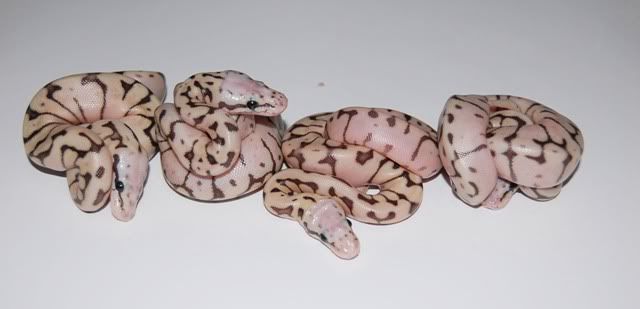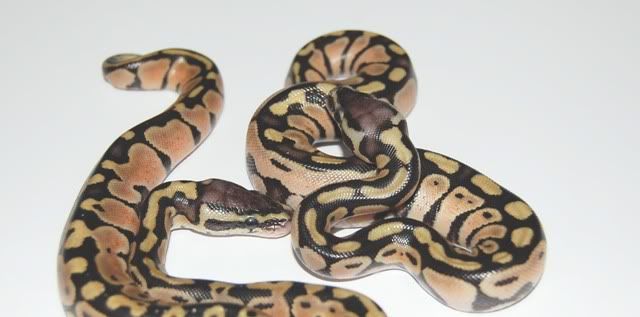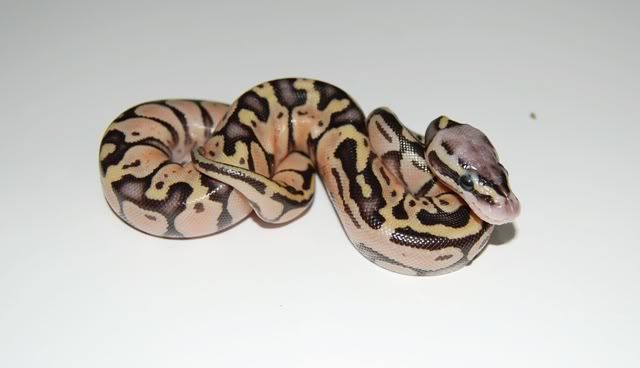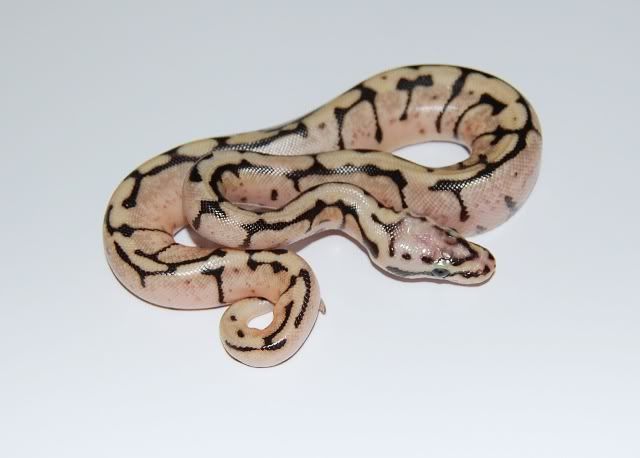 ---
1st August 2010

Our second clutch of the year from an Albino x het albino. This is from our Wild Caught Albino male as well. 5 good eggs.

We're seeing little heads from our WC pastel female x bumble bee son, and the results look very promising. Photo's will soon be taken once they are all out the egg...

---
3rd June 2010

Late beginning to our season, but it's finally starting. I'm not sure how many girls will eventually lay eggs (we started the season late), but i'm very happy about the first clutch we do have. Our WC pastel female has laid me eggs again, this time her bumble bee son sired them. We got 9 eggs, so hopefully we get to see some of her pastel offspring, and possibly get to see the super pastel of this line. In 2008 we hatched out 2 normals, 1 spider, and 1 bumble bee. So we've yet to see what her pastels will look like!